Lee Wine Ruk Thai Resort is the most popular accommodation option for international visitors to Ban Rak Thai. With great views of the town and lake, and each bungalow surrounded by tea plants, staying here puts you in the heart of the iconic Ban Rak Thai experience.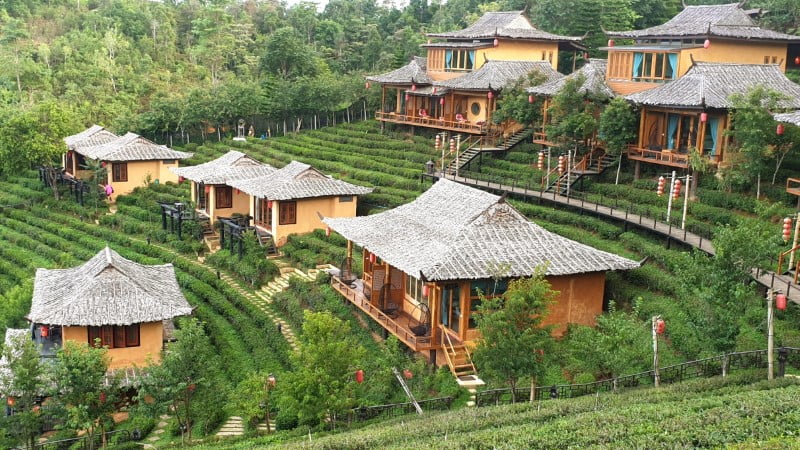 Please note that accommodation booking is completed directly with the resort (currently via their Facebook Page) and is secured with local bank transfer. If you are travelling to Ban Rak Thai as part of an itinerary with Olsen Tours, we can manage the booking for you.
The tea field completely surrounds the bungalows and chalets, and is farmed commercially. Almost daily you will see workers move quietly past your room as they harvest the new growth tea leaves.
At the very back of the property, there is a stunning viewpoint from the top of the plantation overlooking the resort, the town, and the lake. The sun will set at you back, so best light for photography starts from around 1 hour before the sun sinks behind the hill.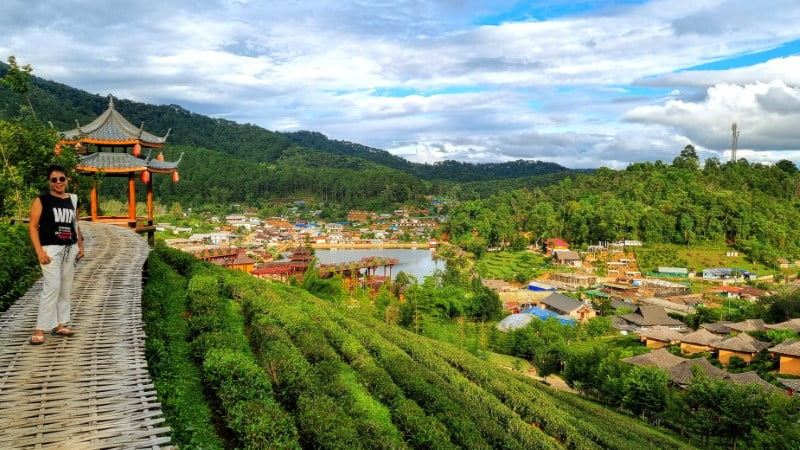 Lee Wine Restaurant
The Lee Wine Restaurant is located lakeside, just across the road from the resort reception area. This is the most popular location for evening meals with great lake views and a menu boasting all the local specialties and Yunnanese highlights.
If you are staying at the resort, your breakfast buffet will be served here in the restaurant. The same building complex houses a cafe and a gift shop complete with Lee Wine branded fruit wines, dries fruit, and of course dried tea leaf.
Nearby Attractions
Tour Itineraries for Ban Rak Thai