Plan your visit to Chiang Mai with our Destination Guide. We welcome all visitors to Chiang Mai, and stand ready to help answer your questions and provide advice on attractions, tours, and itineraries.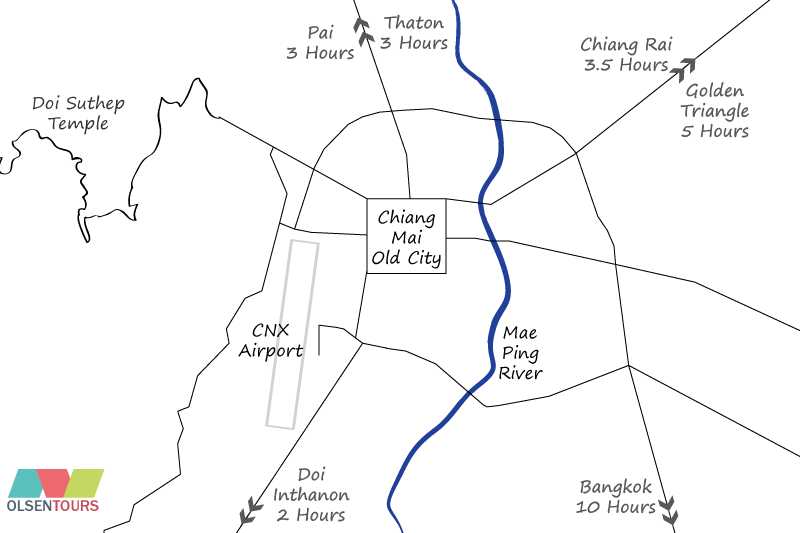 Chiang Mai city is located in a large open valley that it shares with Lamphun province to the south. There are mountains to the West, and open valley East and South.
Head North of Chiang Mai for the neighboring provinces of Chiang Rai & Mae Hong Son.
The Chiang Mai International Airport is quit close to the enter of the city, which is convenient for airport transfers.
Chiang Mai Old City
The city of Chiang Mai is centered on the Chiang Mai Old City which is roughly square in shape, and the major gates on each side aligned with the points of the compass..
Ever-popular markets and temples fill the old walled city and extend along Thapae road towards the Mae Ping river.
Chiang Mai Old City
Explore the historical heart of Chiang Mai.
Wat Phra Singh
Visit the most culturally significant temple within the city of Chiang Mai.
Wat Chedi Luang
Visit Chiang Mai's most physically imposing temple.
Doi Suthep Mountain
If you only have time to visit one attraction in Chiang Mai, we strongly recommend the stunning Doi Suthep Temple on the mountain overlooking the Chiang Mai / Lamphun valley.
Doi Suthep Temple
Visit the most beautiful and famous temple in Chiang Mai.
Considering travel time plus the time spent at attractions, you need a half day to see Doi Suthep. It can get crowded, so early morning and evening are good times to visit.
Doi Inthanon National Park
The highest peak in Thailand is accessible from Chiang Mai, in Doi Inthanon National Park. On a day trip to the national park you will experience the changing natural vegetation and crops at different altitudes. There is also a European-style garden at the Royal pagodas.
Doi Inthanon National Park
Spend a full day exploring Thailand's highest peak and other attractions within the national park.
Chiang Mai Outer Suburbs
While Chiang Mai is not well-served by public transport, a good system of ring-roads makes all of the outer suburbs within a 40 minute drive of each other.
The attractions on the outer edge of the city can all be added to itineraries that include old-city stops or Doi Suthep.
Chiang Mai Northern Districts
If you drive 45 minutes North from Chiang Mai, you reach the districts of Mae Rim and Mae Taeng. There are several popular attractions and activities clustered in the this area, which can easily make up a full day's itinerary.
Queen Sirikit Botanic Gardens
Bai Orchid & Butterfly Farm
The Royal Park Rajapruek gardens are closer to the city and great for a relaxed morning stroll. These gardens were originally developed for an international horticulture exposition.
The Queen Sirikit Botanic Gardens are situated in the scenic mountain forests of Mae Rim. The gardens feature impressive botanical diversity. Travelling further up the mountain from the botanic gardens, you can reach Doi Mon Jam – site of the Mong Nong Hoi village, and the Nong Hoi Royal Project.
Chiang Mai Elephant Camps
Most visitors to Chiang Mai are eager to see our famous Asian Elephants, and we have many camps to choose from. Our comprehensive guide to Chiang Mai Elephant Camps will help you decide which one is best for you.
Food & Culture
The Chiang Mai Sreet Food Tour runs for a few hours in the evening, so we can arrange this for you as a stand-alone tour or as the final part of a full day itinerary.
One of the best introductions to Northern Thai culture is to spend an evening at a Khantoke Dinner. This a great way to experience the uniqueness of local culture through food, dance and music.
Chiang Mai Sports & Adventure Activities
ATVs, paintball, ziplines, bungee, water parks, white-water rafting – in Chiang Mai we have it all. We partner with safe and reputable operators and conduct periodic inspections of their facilities.
Fancy a round or 2 of golf? See our Chiang Mai golf course guide – we cater for both beginners and experienced golfers.
Far North Chiang Mai
Chiang Mai Province actually extends all the way north to the Myanmar border, separating Mae Hong Song from Chiang Rai in the far north. This is not a heavily visited area, but there are a number of points of interest if you are traveling between Mae Hong Son and Chiang Rai, or are otherwise in this area.
Other Destinations in Northern Thailand
Chiang Rai and Mae Hong Son provinces are right next to Chiang Mai. If you would like to see some more remote areas of Nothern Thailand, please see our other destination guides:
Chiang Rai Destination Guide
Mae Hong Son Destination Guide
Accommodation in Chiang Mai
Chiang Mai is very well served by many chain hotels, boutique hotels, resorts, guest houses and serviced apartments. On the other hand, Chiang Mai does not have great public transport. This means that the general location of your accommodation is really quite important.
Olsen Tours is is compensated for referring business to Booking.com.
Night Bazaar – 5 Star Hotels
Meliá Chiang Mai
Newly renovated!
Le Meridien
The absolute epi-center of the night bazaar
Shangri-La
A reasonable walk to the night bazaar
Night Bazaar – 4 Star Hotels
Yaang Come Village
An oasis of tranquility just a short walk from the night bazaar.
Mae Ping River Hotels
Old City Hotels
Nimman District Hotels
Transport Service to Other Provinces
If you plan to travel onward from Chiang Mai by independent means, there are several inexpensive bus services departing from the Arcade Bus Terminal on the Chiang Mai ring road. Travel between Chiang Mai and Chiang Rai is also possible by train.
Olsen Tours is a participant in an affiliate program with 12Go and is compensated for referring business to our partner.
Check route schedules and ticket prices using the search form above, or click through to detailed information below.
Another low-cost way to get to Chiang Rai is to book a seat on the Chiang Rai Short Program group tour and leave the tour in Chiang Rai rather than returning to Chiang Mai in the evening. This will cost you a little more than the public bus, but we can arrange hotel pickup/drop-off (so you don't need additional transfers for bus stations). You also get a day of guided sightseeing in Chiang Rai with lunch included.
General Information about Chiang Mai
Chiang Mai was established as the capital of an independent kingdom over 700 years ago. Today, as a province of present-day Thailand, it is well serviced with modern convenience but retains a relaxed atmosphere and palpable cultural richness. As you move further from the city you can experience undisturbed & traditional rural communities.
The larger hotels are generally clustered around the Chiang Mai Night Bazaar district, and smaller boutique hotels and guest houses within the old city. West of the city there is a more newly developed area, the Nimman district which has a mixture of accommodation styles.
For more information on Chiang Mai, please see the following resources: