Smart Elephants Family is a family-run elephant camp to the north of Chiang Mai in Mae Taeng district. This elephant sanctuary is open to small groups of visitors who may interact with the elephants ethically.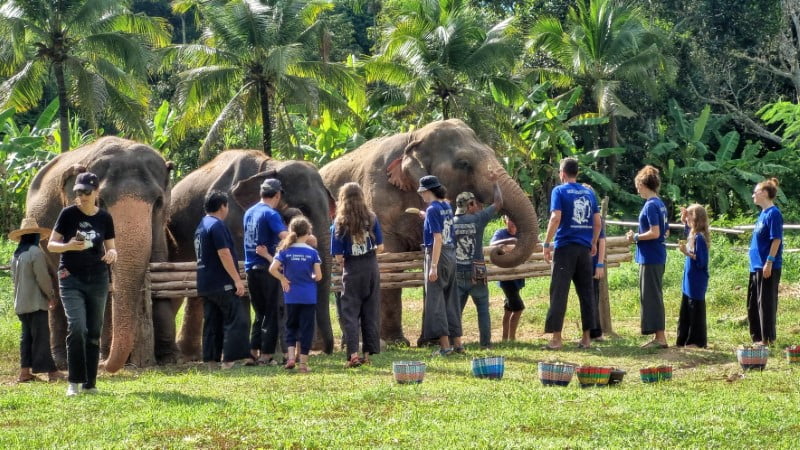 You will get dirty! The focus of this camp is getting up close and personal with the elephants. Shower facilities are available at the completion of each program.
We suggest you bring sunscreen lotion, insect repellent, and also swimwear to wear under the provided clothing if you like.
Smart Elephants Family – Group Tour
Visit Smart Elephants Family Chiang Mai, a strictly no-riding elephant sanctuary. This is a half day group tour with shuttle transport and on-site guide service provided by the elephant camp.
Smart Elephants Family Group Tour
฿1500
per person
Pick up: morning 7:45-8:00 a.m. afternoon 1:15-1:30 p.m.
This is a half day group tour with shuttle transport provided by the elephant sanctuary.
Visitors are never permitted to ride the elephants, instead you will have the opportunity to hand feed the elephants, walk with the elephants as they forage their own food, and bathe with the elephants.
Itinerary & Inclusions
Shuttle transfer to/from your hotel (camp is 1 hour north of Chiang Mai city)
Mahout clothing is provided
Shower facilities available
A light lunch is provided on site
On-site guide to explain everything to you and help you have a great day.
Smart Elephants Family – Private Tours
If you want to combine your visit to Smart Elephants Family with other nearby attractions, a private tour will suit your needs.
Elephant Camps In Chiang Mai
Nearby Attractions
Queen Sirikit Botanic Gardens
Bai Orchid & Butterfly Farm