Chiang Rai is the northernmost province of Thailand, bordering both Laos and Myanmar. Merchant ships from China stop at ports on the Mekong river, and a constant stream of tourists travel to and from neighboring Chiang Mai.
Well-known for the infamous Golden Triangle, Chiang Rai contains many diverse attractions whether your interests are inspiring temples, the beauty of nature, ethnic cultures or agri-tourism.
Chiang Rai City
The center of Chiang Rai city has a modest night market, wet market, and several temples. Further out into the suburbs there are many significant points of interest. You could easily spend over a day exploring all the major attractions just within the city limits.
No visit to Chiang Rai is complete without a stop at the White Temple. In keeping with the color theme, there is also the Black House and Blue Temple to visit.
If you have a little more time to spend around the city, there are additional attractions you can visit. Singha Park is a good option for a lunch stop or to simply enjoy a view of the tea fields. Wat Huay Pla Kang is located in the outer suburbs north of the Kok river, but well worth a look.
Golden Triangle
The infamous Golden Triangle was once an assumed part of any itinerary in Chiang Rai. Now that many more destinations have opened up for tourism you have other options, but the golden triangle still remains popular – at least in part because people like to say they have been there.
Of course, around the golden triangle itself there are more itinerary options these days, so a well planned trip that includes some of the nearby attractions can make for a memorable day of travel.
Depending how much time you have, Doi Tung (Mae Fah Luang Gardens), Choui Fong Tea Plantation, and Mae Sai Border Markets are all places you can consider visiting in between Chiang Rai and the Golden Triangle.
Doi Chang (Akha Coffee Village)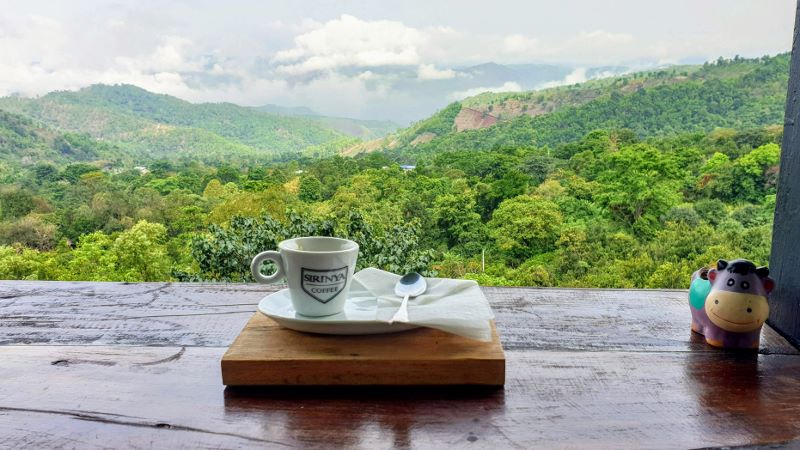 Doi Chang is a great 'off the beaten track' experience, but really only a small detour from the main highway between Chiang Mai and Chiang Rai.
You can stay for 1 night in Doi Chang and combine it with visits to the regular Chiang Rai attractions as part of the same trip.
Mae Salong (Yunnanese Tea Village)
Mae Salong is a little further out of the way, but a rewarding visit. This is the heartland of tea production in northern Thailand and an area rich in history: the local people are descendants of KMT soldiers from China.
Bamboo Nest (Bamboo Bungalows & Trekking)
If you would like to do some moderate trekking and want to stay out of the city in natural beauty & tranquility, Bamboo Nest is a great option.
This bamboo bungalow resort is close to Lahu & Akha villages with 2 hour walks in & out. You will feel like you are a world away, but from the start/end of the walking trails you are actually 30 minutes drive from Chiang Rai's outer suburbs.
By Road from Chiang Mai
The main road from Chiang Mai to Chiang Rai is highway 118. The travel time is around 4 hours, and will hopefully be back to 3.5 hours once major roadworks are completed.
Almost every tour operator in Chiang Mai includes a rest break at Mae Khachan Hot Springs to break up the journey. This is a pleasant enough place to bathe your feet and access facilities.
A newer, lesser known, place to visit along the main road is Wat Saeng Kaew Phothiyan. This beautiful and peaceful temple would be worth a visit regardless of location, so convenience to the main highway is simply a bonus.
Staying Overnight in Chiang Rai City
The Chiang Rai night bazaar is like a small version of the Chiang Mai markets, but it is the most active place to walk in the evening.
The nearby Chiang Rai clock tower has an interesting light show every hour.
When choosing accommodation in Chiang Rai, you need to consider whether to stay within walking distance of the night bazaar district.
Chiang Rai Tours
We recommend spending at least 1 night in Chiang Rai province. We have several multi-day itineraries allowing you to see Chiang Rai city and surrounding attractions as well as the Golden Triangle.
If you simply do not have the time or budget to stay overnight in Chiang Rai, it is possible to visit as part of a day tour from Chiang Mai. The day tour runs as both a group tour, and a private tour with slightly different inclusions and options.
Chiang Rai Bus Service
If you plan to travel independently to/from Chiang Rai, there are several inter-province bus services available.
General Information about Chiang Rai
For more information on Chiang Rai, please see the following resources: