Chiang Mai Train Station is quite conveniently located in the inner suburbs of Chiang Mai. While the bus service is generally faster, cheaper, and more reliable, taking a train is more spacious and sleeping can be quite comfortable with various classes of travel available.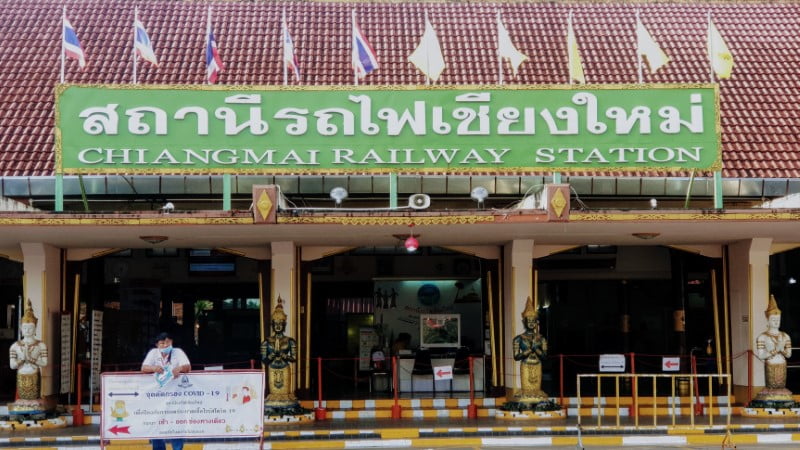 Taking the train gives you the opportunity to see some of the countryside, and within Bangkok you can observe some of the less-touristy aspects of the city. The train stops at Don Muang Airport (DMK), so this can make rail a convenient choice of travel if you have a connecting flight at DMK. Just make sure your flight is at DMK, and not at the new international Suvarnabhumi Airport (BKK).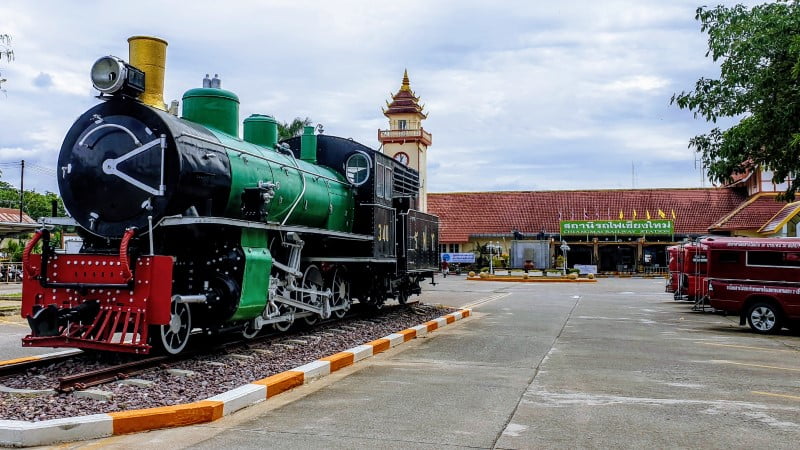 Chiang Mai Train Ticket & Schedule Information
Olsen Tours is a participant in an affiliate program with 12Go and is compensated for referring business to our partner.
Train Chiang Mai - Bangkok

฿ 641–1,903

10h 35m – 14h 40m

→

2nd Class AC seats only

08:50

→

1st Class Sleeper

17:00, 18:00

→

2nd Class Sleeper AC

15:30, 17:00, 18:00

→

2nd Class Ladies Only

18:00

→

2nd Class Sleeper Fan

15:30

→

2nd Class Fan seats only

06:30

←

2nd Class AC seats only

08:30, 08:40, 08:50, 09:00, 09:07, 09:13

←

2nd Class Sleeper AC

13:45, 14:00, 14:10, 14:19, 14:29, 14:33, 18:10, 18:25, 18:35, 18:45, 18:50, 18:55, 19:35, 19:50, 19:57, 20:08, 20:15, 20:23, 22:00, 22:14, 22:23, 22:33, 22:42, 22:50

←

1st Class Sleeper

18:10, 18:25, 18:35, 18:45, 18:50, 18:55, 19:35, 19:50, 19:57, 20:08, 20:15, 20:23

←

2nd Class Ladies Only

18:10, 18:25, 18:35, 18:45, 18:50, 18:55
Train Chiang Mai - Phitsanulok

฿ 510–1,585

5h 44m – 8h 5m

→

2nd Class AC seats only

08:50

→

2nd Class Fan seats only

06:30

→

1st Class Sleeper

17:00, 18:00

→

2nd Class Sleeper AC

15:30, 17:00, 18:00

→

2nd Class Sleeper Fan

15:30

←

2nd Class AC seats only

13:12

←

2nd Class Sleeper AC

00:15, 01:47, 04:37, 05:08, 20:35, 21:03, 21:13

←

1st Class Sleeper

00:15, 01:47

←

2nd Class Ladies Only

00:15
Train Chiang Mai - Ayutthaya

฿ 686–1,848

9h 15m – 12h 8m

→

2nd Class AC seats only

08:50

→

1st Class Sleeper

17:00, 18:00

→

2nd Class Sleeper AC

15:30, 17:00, 18:00

→

2nd Class Ladies Only

18:00

→

2nd Class Sleeper Fan

15:30

←

2nd Class AC seats only

09:48

←

2nd Class Sleeper AC

15:17, 19:44, 21:06, 23:35

←

1st Class Sleeper

19:44, 21:06

←

2nd Class Ladies Only

19:44

←

2nd Class Fan seats only

23:35