Visit the highest peak in Thailand! Doi Inthanon National Park is accessible as a day-tour from Chiang Mai. The paradox of the summit is that there are no views. At 2,565 meters above sea level, the summit of Doi Inthanon is forested and covered in mist year-round.
Instead of taking in a sweeping vista, you are immersed in the cool moist air and come face-to-face with the moss and lichen covered tree trunks. There is a short ring-track through the forest with a monument marking the highest point. A nearby information center has posters explaining the flora and fauna that is found at this altitude and lower slopes
Ang Ka Nature Trail (Cloud Forest Boardwalk)
Close to the summit is another boardwalk This is only a short walk of a few hundred meters, but it lets you get a little further into the forest and experience the misty, moss-covered forest floor and high-altitude peat bog.
Royal Pagodas & Gardens
The Royal Pagodas are very photogenic, and a highlight of any trip to Doi Inthnon.
Doi Inthanon Royal Pagodas
These twin Pagodas (their official names are Pra Mahatat Noppamethanedon and Pra Mahatat Nopphonphusiri) honor the late King Bhumibol Adulyadej and Queen Sirikit, and are surrounded by spectacular gardens. While the summit does not have …
Trekking to Mae Klang Luang via Pha Dok Siew Trail
We strongly recommend this trek as part of all day trips and overnight itineraries to Doi Inthanon.
Pha Dok Siew Nature Trail
For many visitors to Doi Inthanon National Park, this trek is the highlight of the day. A local Karen guide will lead you (mostly downhill) through forest and farmland to her village. The forest walk …
Mae Klang Luang Village
Mae Klang Luang (Karen Village) Mae Klang Luang is a Karen Village situated within Doi Inthanon National Park. Named after the Mae Klang river, the local population earn the bulk of their income from farming, …
If you are unable to complete the trek (for example, due to restricted mobility), we can drive you straight to the village of Mae Klang Luang so you will not miss out on the coffee tasting, and we can use the additional time to go for an easier walk in the village.
Kew Mae Pan Nature Trail
If you would like a more challenging walk, the Kew Mae Pan trail is at a higher altitude (starts just above the royal pagodas), and takes 2.5 hours. This trail is not open during the wet season to ensure safety. Please let us know during the booking process if you prefer this trail as availability for group tours is not guaranteed, and for private tours we need to arrange for a local guide in advance.
Wachirathan Waterfall
Wachirathan Waterfall is one of several scenic waterfalls within the park. It is one of the most spectacular waterfalls and is easily accessible.
Swimming is not permitted at this waterfall – for safety, aesthetic & environmental reasons, but you will get some great photos.
Doi Inthanon Royal Project
The Doi Inthanon Royal Project is located near the Hmong village of Khun Klang within the National Park. This is a royal sponsored project to improve agri-technology and market local Karen and Hmong produce.
Doi Inthanon Hmong Markets
On the lower slopes of Doi Inthanon is a daily market where Hmong villagers sell fresh produce and also processed goods such as dried fruit.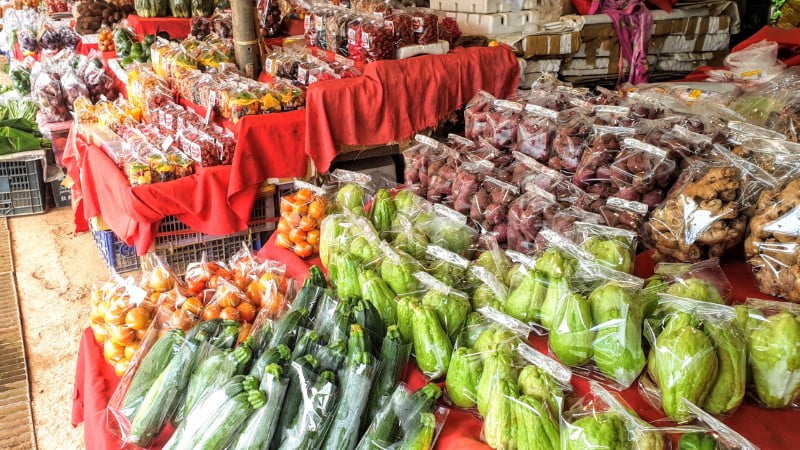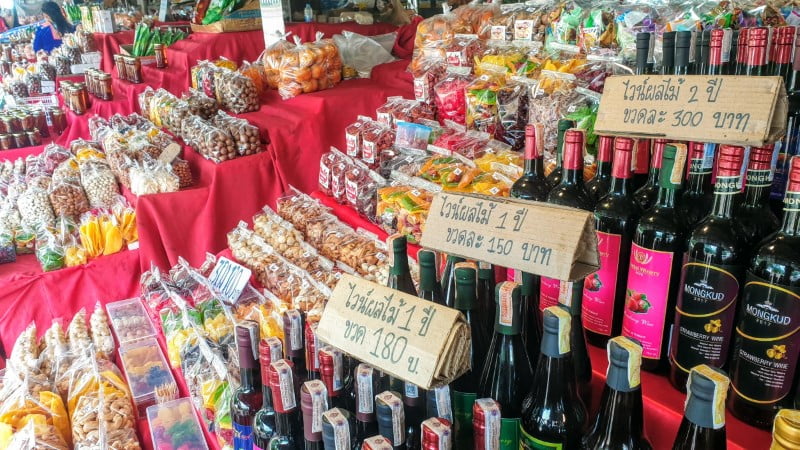 Doi Inthanon National Park Tours
The easiest way to see Doi Inthanon National Park is on a day tour. A group tour runs every day, and we arrange private day tours on demand.
The tour takes in all the most popular attractions of Do Inthanon, and includes soft trekking within the National Park.
Doi Inthanon Day Tour Itinerary
The tour includes all transport, licensed English-speaking Tour Guide, all attraction tickets, and a set-menu lunch.
You will visit all the places listed throughout the day, but the order will vary based on season & logistics. (e.g. trekking may be morning or afternoon).
Pickup from Hotel in Chiang Mai.
Drive south to Doi Inthanon National park. (park entry fee included)
Go to the mountain summit –  the highest point in Thailand.
Visit the Cloud Forest boardwalk (Ang Ka Trail) near the summit. (free)
Visit the Royal Pagodas and gardens (entry included)
Browse the fresh produce at Hmong markets (free)
Set menu lunch (included)
Trekking with local Karen guide along Pha Dok Siew nature trail to Mae Klang Luang village. 2 hours easy walk (mostly downhill) through forest and past waterfalls and Karen farmland (local guide fee included).
Finish trek at the Karen village where you can sample locally grown and freshly roasted arabica coffee. (free)
On the way back down the mountain, visit Wachirathan waterfall. (free)
Return to hotel at around 6pm or earlier
Both the private and group tours include the same points of interest. Here is a quick comparison on prices and inclusions.
Doi Inthanon Group Tour
฿1,700
per person
Share your guide and van
with other travellers
Pickup around 7:30am
Doi Inthanon National Park
Trekking with local guide
Coffee tasting at Karen village
Set-menu lunch
Highest Point in Thailand
Ang Ka Nature Trail
Royal Pagodas & Gardens
Wachirathan waterfall
Doi Inthanon Private Tour
฿4,100 (2 pax)
฿3,000 (3 pax)
฿2,700 (4 pax)
฿2,300 (5+ pax)
฿1,900 (7+ pax)
per person
Same inclusions as group tour
+ Later start time (8:00am)
+ Exclusive tour guide
+ Private transport
+ Exclusive local guide for trekking
If you are planning to do the Mae Hong Son Loop, this itinerary includes all Doi Inthanon attractions featured in the day tours.