Doi Chang is a mountain region famous for coffee production. Many coffee plantations and cafes can be found around the Lisu & Akha village of Baan Doi Chang.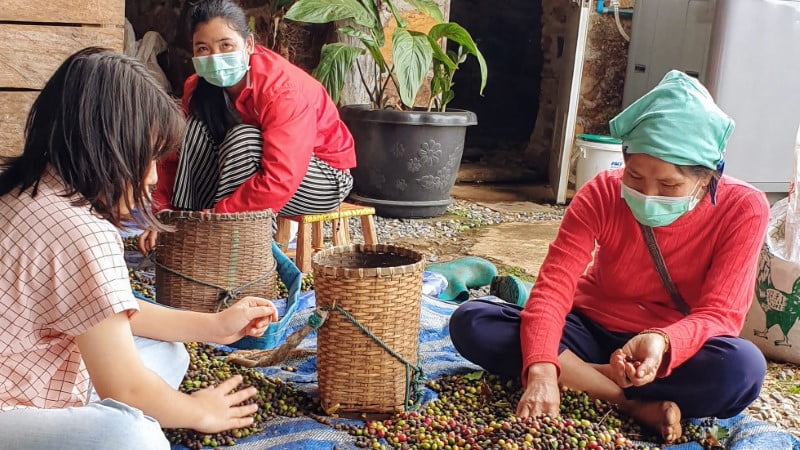 Doi Chang is just over 30 minutes from the main highway between Chiang Mai and Chiang Rai (and just over 1 hour from the center of Chiang Rai city).
The town is tucked away in the mountains and feels disconnected from the outside world. In reality it has a really good road connection, thanks to the thriving coffee business.
The proximity of Doi Chang to Chiang Rai city makes it an ideal place to spend a night as part of a longer itinerary exploring Thailand's northern provinces. Great coffee, authentic local food and a rich culture are to be found here in abundance.
In the mid 80s the farmland was converted from opium to coffee production. The original coffee brand is Doi Chaang (spelled with double a). While Doi Chaang has grown into a global exporter and domestic brand of cafes, other boutique/single source brands have also flourished.
The local soil is a rich red clay common to mountains in this part of the world, and is amended with biochar made mostly from coffee husks as you might imagine. Many farms have diversified with macadamia nuts and corn, and you will see a wide variety of fruits and vegetables growing for local consumption and to support the local restaurant trade.
Doi Chang Farm & Factory Tours
Doi Chang is relatively undeveloped for tourism – as such many independent travelers are unable to see coffee plantations. For our private tour clients we have access to a closer look at coffee company operations.
Doi Chaang Coffee Estate
The Doi Chaang coffee brand is the central success story in the commercialization of arabica coffee production in the Doi Chang district of Chiang Rai in Northern Thailand. Coffee plants were originally introduce to the …
Doi Chang Coffee Farm
This is a popular cafe perched above the main road as you approach the town. They have accommodation across the road (Doi Chang Coffee Farm House), and a farm/factory on the hillside above. Tours can be arranged, and prices are discounted for guests staying in their accommodation.
Doi Chang Accommodation
Doi Chang is a relatively remote location and not on the main our circuit – as such the accommodation does not reach the heights of comfort. We recommend the following based on cleanliness and management quality.
Baan Suan Doi Chang
Baan Suan Doi Chang is out top pick for Doi Chang accommodation. The bungalows are surrounded by coffee plants and all have great views of the valley. This resort has 2 rules – no pets, and no noise. The owner has decided against listing this property with online platforms to make sure he only has guests who will respect the peaceful atmosphere of this place.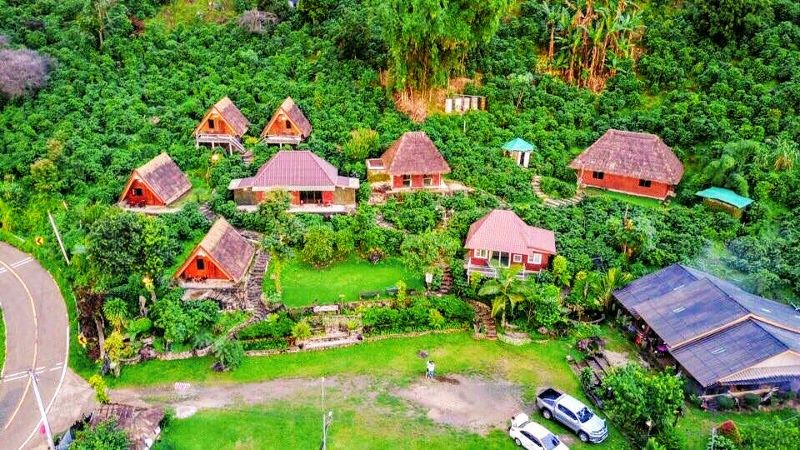 There is a macadamia wholesale business next door (same owner) and we can arrange a walk in the macadamia plantation for guests. Just next to that is the Akha Kitchen restaurant which is in our top two picks for restaurants in Doi Chang.
If you are traveling independently to Doi Chang, there are a limited number of propertire starting to lost for online booking…
Olsen Tours is is compensated for referring business to Booking.com.
Doi Chang Restaurants
Flying Restaurant
Flying Restaurant (飞天餐馆 / Fei Tian) is something special for foodies. The menu is a fusion of Cantonese, Szechuan, and Akha dishes – with perhaps a hint of the Yunnanese influence typical of Northern Thailand.
Great food, great views, and a friendly host can be found here reliably for lunch or dinner. Vegan / vegetarian food is available on request, and the steamed buns are vegan.
Akha Kitchen
Akha Kitchen is another great local eatery. Part gift-shop, but ultra-clean and with the obligatory valley views, this is our top pick for more typical local food prepared with pride and skill.
This restaurant is adjacent to the Baan Suan Doi Chang Resort, so highly convenient if you are staying there.
Doi Chang Viewpoint Restaurant
A more relaxed dining option, Doi Chang Viewpoint Restaurant is further up the mountain and as with all of our other recommendations has good food and views.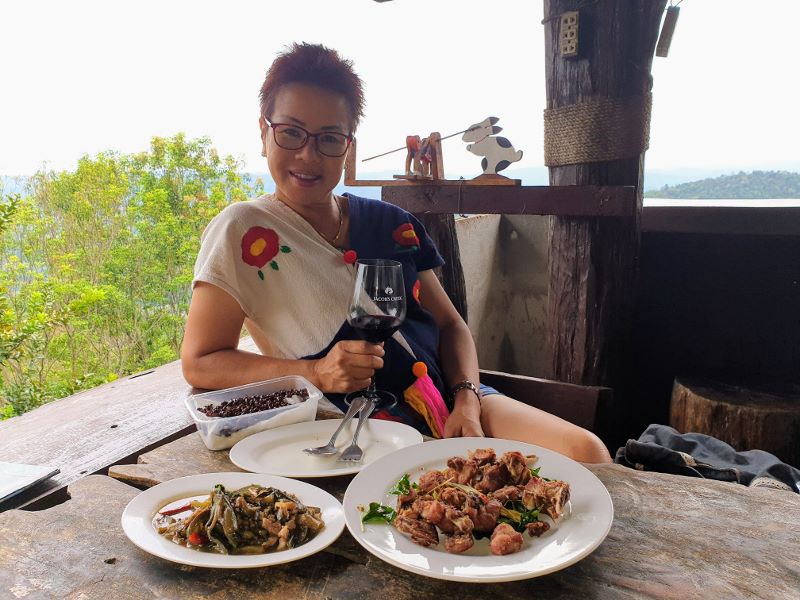 Other Doi Chang Attractions
Temple Park & Doi Chang Viewpoint
Located on the slopes above Doi Chang, Temple Park and Doi Chang Viewpoint provide an opportunity to enjoy a mix of natural forest, macadamia plantations, and a curated garden of bamboo and exotic trees. Temple …
Doi Chang Private Tours