Doi Chang is a mountain region famous for coffee production. Many coffee plantations and cafes can be found around the Akha village of Baan Doi Chang. Doi Chang is just over 30 minutes from the main highway between Chiang Mai and Chiang Rai (and just over 1 hour from the center of Chiang Rai city).
The town is tucked away in the mountains and feels disconnected from the outside world. In reality it has a really good road connection, thanks to the thriving coffee business. If you choose wisely, simple but clean and comfortable accommodation can be found. Likewise the food is good (just don't expect chain restaurants or foreign cuisine) and of course there is a lot of good coffee to drink.
The proximity of Doi Chang to Chiang Rai city makes it an ideal place to spend a night as part of a longer itinerary exploring Thailand's northern provinces.
In the mid 80s the farmland was converted from opium to coffee production. The original coffee brand is Doi Chaang (spelled with double a). While Doi Chaang has grown into a global exporter and domestic brand of cafes, other boutique/single source brands have also flourished.
The local soil is a rich red clay common to mountains in this part of the world, and is amended with biochar made mostly from coffee husks as you might imagine. Many farms have diversified with macadamia nuts and corn, and you will see a wide variety of fruits and vegetables growing for local consumption and to support the local restaurant trade.
Doi Chang Coffee Farm & Factory Tours
Doi Chang is relatively undeveloped for tourism – as such many independent travelers are unable to see coffee plantations. For our private tour clients we have access to a closer look at coffee company operations.
Lee Hu Coffee
Lee Hu Coffee processes a large amount of coffee grown on site, and also buys small quantities of raw bean from local farmers. This is a great place to see the various processing stages, and we include this as a stop on our standard itineraries.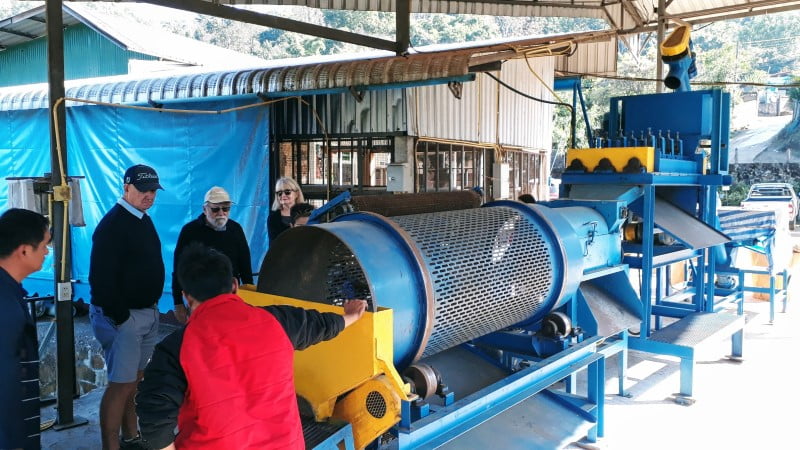 Leesoaw Macadamia
Also a regular stop for us, Leesoaw Macadamia is just on the edge of town. This macadamia processing plant is a real local success story, adding needed diversity to the local economy. Nuts are available for purchase of course, but they also have other downstream products such as macadamia-based skin lotion.
Sirinya Coffee
Sirinya Coffee is a family-owned boutique coffee company with micro-lot / single-origin coffee. They have a charming cafe close to the town of Baan Doi Chang and we can arrange a tour of their farm and coffee processing facility.
Doi Chang Coffee Farm
This is a popular cafe perched above the main road as you approach the town. They have accommodation across the road (Doi Chang Coffee Farm House), and a farm/factory on the hillside above. Tours can be arranged, and prices are discounted for guests staying in their accommodation.
Doi Chaang Coffee
The most obvious processing facility as you arrive at Doi Chang is the Doi Chaang factory. While there is a cafe on site, they do not offer tours because it complicates their export certifications. We would not usually include this factory on a tour itinerary – the cafe is okay, but no different to any Doi Chaang branded cafe across the cities of Thailand.
Doi Chang Accommodation
Doi Chang is a relatively remote location and not on the main our circuit – as such the accommodation does not reach the heights of comfort. We recommend the following based on cleanliness and management quality.
Baan Suan Doi Chang
Baan Suan Doi Chang is out top pick for Doi Chang accommodation. The bungalows are surrounded by coffee plants and all have great views of the valley. This resort has 2 rules – no pets, and no noise. The owner has decided against listing this property with online platforms to make sure he only has guests who will respect the peaceful atmosphere of this place.
There is a macadamia wholesale business next door (same owner) and we can arrange a walk in the macadamia plantation for guests. Just next to that is the Akha Kitchen restaurant which is in our top two picks for restaurants in Doi Chang.
Doi Chang Hill Resort
The view from Doi Chang Hill Resort is not as good as Baan Suan, but it is within walking distance (100 m) of Baan Doi Chang if you want to venture out into the town and mix with the locals. The rooms are a little older than Baan Suan, but still clean.
Doi Chang Coffee Farm House
This is simple but clean accommodation across the road from the popular Doi Chang Coffee Farm cafe.
Doi Chang Restaurants
Flying Restaurant
Flying Restaurant (飞天餐馆 / Fei Tian) is something special for foodies. The menu is a fusion of Cantonese, Szechuan, and Akha dishes – with perhaps a hint of the Yunnanese influence typical of Northern Thailand.
Great food, great views, and a friendly host can be found here reliably for lunch or dinner. Vegan / vegetarian food is available on request, and the steamed buns are vegan.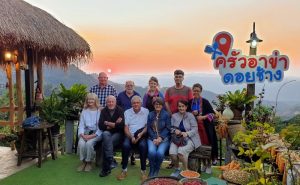 Akha Kitchen
Akha Kitchen is another great local eatery. Part gift-shop, but ultra-clean and with the obligatory valley views, this is our top pick for more typical local food prepared with pride and skill. This restaurant is adjacent to the Baan Suan Doi Chang Resort, so highly convenient if you are staying there.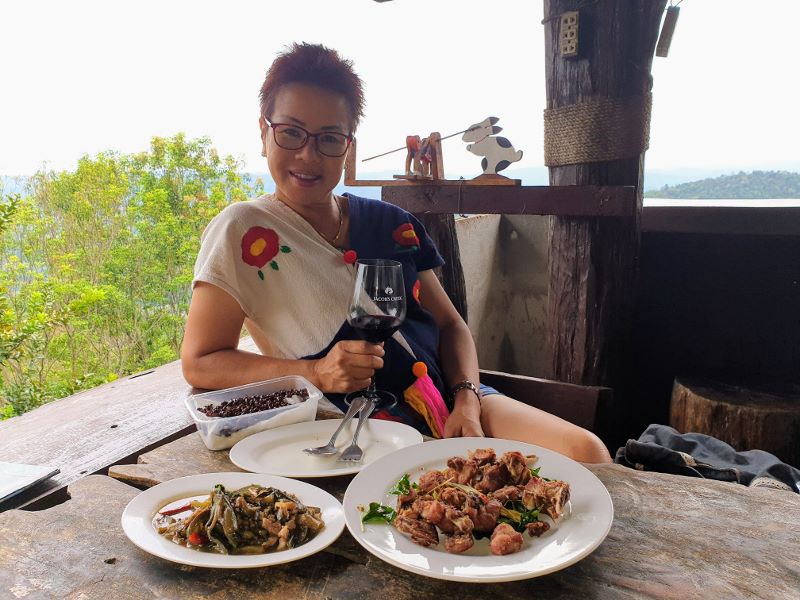 Doi Chang Viewpoint Restaurant
A more relaxed dining option, Doi Chang Viewpoint Restaurant is further up the mountain and as with all of our other recommendations has good food and views.
Temple Park
Temple Park is a regular favorite for visitors to Doi Chang. Located higher up the mountain than the village, this area was rehabilitated over several years by a local monk. He brought in many impressive plant species that are surrounded by a sea of beautiful bamboo. This is a great place to walk in the morning.
Doi Chang Private Tours