Ban Rak Thai is a stunningly beautiful village in Mae Hong Son Province, right next to the Myanmar border. This is one of several Yunnanese enclave towns found in Chiang Rai and Mae Hong Son. The villagers are descendants of KMT soldiers from China, now living in peace in a beautiful corner of the world.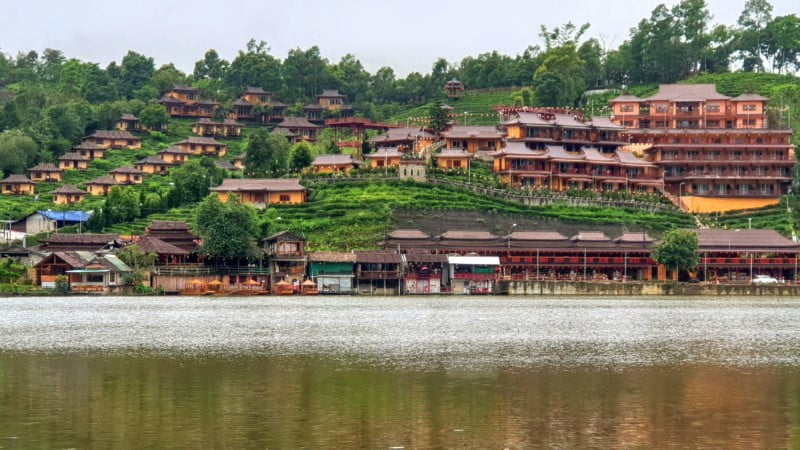 The town is built on low hills surrounding a lake. Tea is grown on the slopes, and you can taste/purchase tea leaf at many tea shops in the town.
For visitors with Chinese heritage, Ban Rak Thai can awaken deep cultural memories, or simply add an air of sweet nostalgia to a relaxed vacation.
Even if you have no personal connection with Chinese culture, you will immediately sense that this is a remarkable place and will feel welcomed by the universal languages of natural beauty, friendly smiles, and food prepared with respect for tradition.
Where to Stay in Ban Rak Thai?
The iconic photos of Ban Rak Thai showing bungalows surrounded by tea fields are of Lee Wine Ruk Thai Resort. Next door is the more simple Chasa Resort which also has very good views of the town and lake. Both resorts have restaurants where you can sample some Yunnanese specialties.
There are many other boutique guesthouses around the lake.
Where to eat in Ban Rak Thai?
Our top picks for dinner in Ban Rak Thai are:
Lee Wine Yunnan. Lakeside, just across the road from Lee Wine Resort, this stylish and cozy eatery serves a classic menu with quality and consistency. Dinner reservations will fill fast, especially November through February.
Yunnan Chinese Restaurant. This is found at the front of the Chasa Resort – just walk up the steps from street level and you will be welcomed to their dining room with lake views. This restaurant has many tables, but also a lot of floor-space, so you will not feel crowded.
Ji Li Restaurant. – This is at the northern end of the town, set back across the road from the lake. You will not have a great view or the open-air ambience of the other large restaurants, but they serve a similar classic menu.
Phu Num Resort. If you are unable to reserve a table at Lee Wine Yunnan, the resort next door serves set menu banquets from the same kitchen.
Aunty Nuay's Noodle Shop. If you are looking for a light meal at lunch, there are many small places where you can eat like a local – we often have lunch at this place just south from Lee WIne Resort reception on the way into town.
Activities in Ban Rak Thai
The most popular activity in Ban Rak Thai is doing nothing! Enjoy the views, take a leisurely stroll around the lake or up to a view point. There are several restaurants dotted around the town and many shops selling dried tea leaf, fruit wines and dried fruits.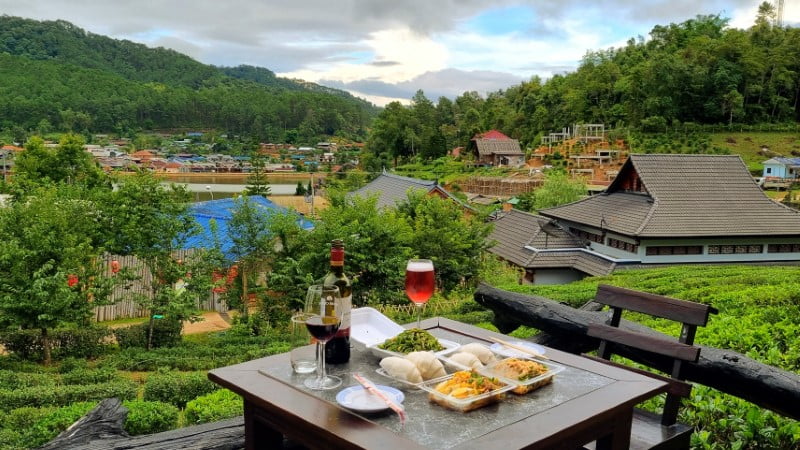 If you want to get out on the lake, there are charter boats available. Contact the staff at Lee Wine Restaurant or Cafe to enquire about prices/availability (or ask your tour guide to arrange it).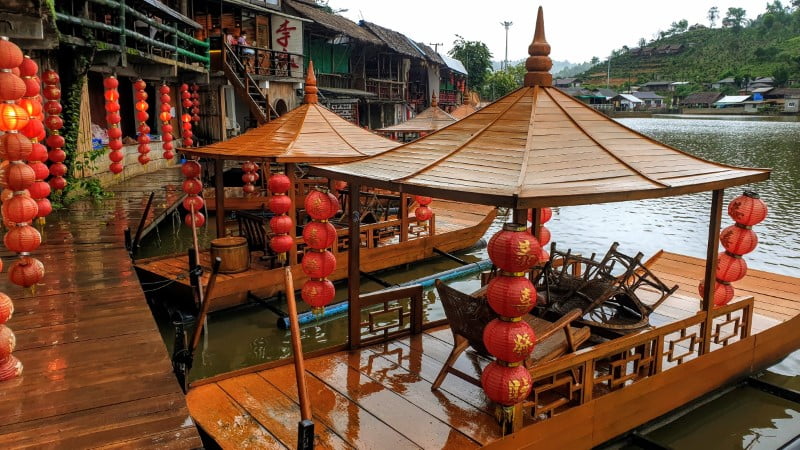 If you take a walk around the lake you will see a lot of the local homes and shops. While there has been a lot of development in recent years, the town still maintains a lot of its original charm.
Nearby Attractions
While Ban Rak Thai is certainly one of the highlights of Mae Hong Son province, there are many other things to see and do in this remote part of the world.
How do I get to Ban Rak Thai?
For independent travelers, the easy part will be getting to Mae Hong Son City, with regular buses departing from Pai (or Chiang Mai if you can sit in a bus that long!). There is a yellow songthaew that runs between Mae Hong Son City and Ban Rak Thai – this would be quite an adventure if you have no local languages.
The comfortable and easy way to get to Ban Rak Thai is as part of a private tour itinerary – see below for itineraries departing from Chiang Mai.
How long does it take to get to Ban Rak Thai?
The total driving time from Chiang Mai to Ban Rak Thai is 5 hours, 30 minutes. Of course, with the winding mountain roads you will want to take plenty of stops including a solid break for lunch.
| Route to Ban Rak Thai | Driving Time |
| --- | --- |
| From Chiang Mai (via Pai) | 5 hours, 30 minutes |
| From Chiang Mai (via Doi Inthanon) | 7 hours, 10 minutes |
| From Pai | 2 hours, 40 minutes |
| From Mae Hong Son City | 1 hour, 10 minutes |
Driving times to Ban Rak Thai (excluding breaks)
While it is technically possible to drive from Chiang Mai to Ban Rak Thai in a single day (and even wake up early the next morning and drive back), the road has many twists and turns making this impractical. Ban Rak Thai is best enjoyed in the morning and evenings, and you want to allow time to relax and soak in the atmosphere.
Tour Itineraries for Ban Rak Thai
For visitors with limited time and a strong desire to visit Ban Rak Thai, we can customize a 3 day / 2 night program for Mae Hong Son City and Ban Rak Thai – on the understanding that there will be a lot of travel involved.
For most people, we recommend a four day itinerary staying in Pai, Ban Rak Thai, and Mae Hong Son City. This allows us to balance the amount of travel across all days of the tour.
If you have five days, you can complete the legendary Mae Hong Son Loop, and stay overnight in Doi Inthanon National Park.