Araksa Tea & Sticky Waterfall: Private Day Tour
If you would like to visit Araksa Tea Gardens, this private day tour combines a tea picking tour and an afternoon at Bua Tong Sticky Waterfall.
Depending on how long you decide to spend at the Sticky Waterfall, you may have time to visit the San Kamphaeng handicraft showrooms before returning to your hotel.
Araksa Tea & Sticky Waterfall Private Tour
2 pax = ฿3,700 per person = ฿7,400 total
3 pax = ฿2,800 per person = ฿8,400 total
4 pax = ฿2,600 per person = ฿10,400 total
5+ pax = ฿2,300 per person
7+ pax = ฿2,000 per person
Includes transport, licensed English-speaking tour guide, lunch, and attraction tickets as listed
Itinerary Detail
Bai Orchid & Butterfly Farm
Bai Orchid & Butterfly Farm is located in Mae Rim district, Chiang Mai. Near many other popular attractions, it is a must-see for orchid enthusiasts and worth a look for everyone else!. There are two …
Araksa Tea Garden
Araksa Tea Garden is located about 1.5 hours drive north from Chiang Mai. As such it is the most accessible tea plantation if you are staying in Chiang Mai city. It is quite different from …
Take a break for lunch. A set-menu or buffet meal is included in the tour package. Let your guide know if you would prefer to use the lunch budget towards an a-la-carte restaurant of your choosing.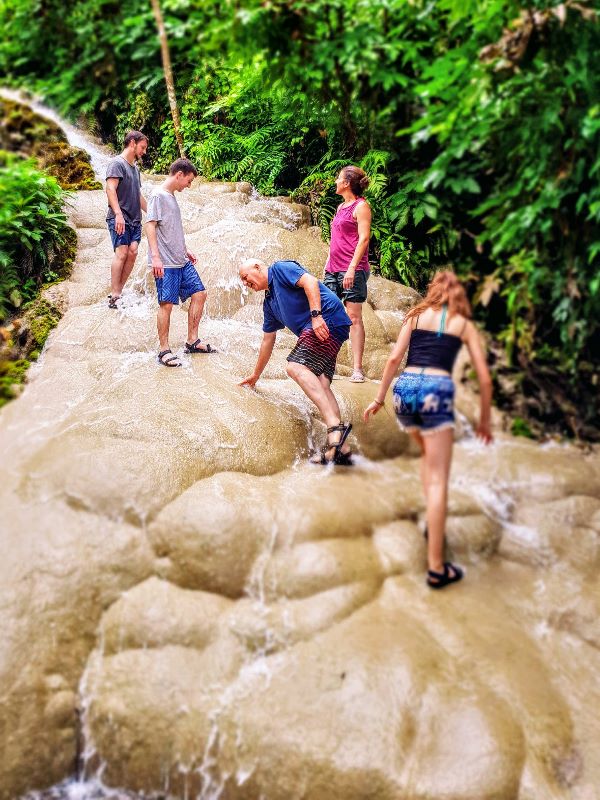 At Bua Tong 'Sticky Waterfall', take a walk up this completely non-slippery waterfall.
It is possible to stay completely dry, but kids (and the young at heart) find a way to get wet, especially when we have hot weather!