Located within the Sri Lanna National Park, Mae Ngat Somboon Chon Dam is about 1 hour north of Chiang Mai city. The dam is built across the Mae Ngat river which is a tributary to the Mae Ping river (the main river that flows through Chiang Mai city).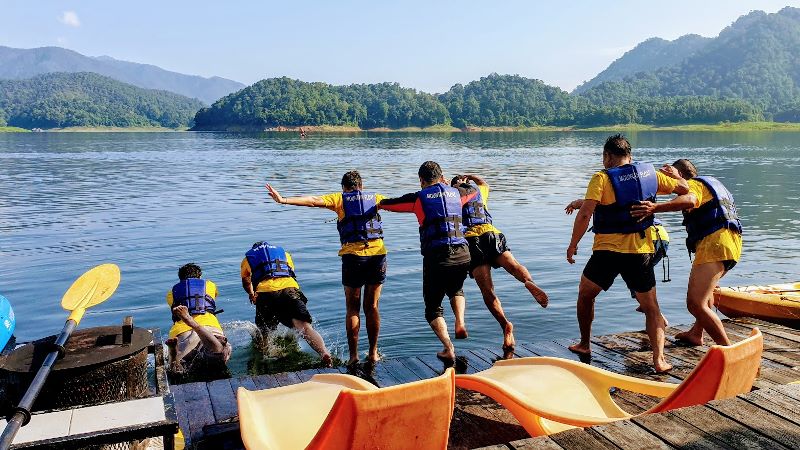 The primary purpose of the dam is hydro-electric power generation, but Mae Ngat also ensures a regular flow of water downstream through the Mae Ping River and the interconnected canal system. As you drive through the valley below the dam wall you will see typical canal-irrigated farmlands with papaya, coconut, eggplant, chili, green-leaf vegetables and the ubiquitous rice paddies.
For travelers, the Mae Ngat Dam is a pleasant place to spend the night. Great for families, whether you want to simply relax or get in some solid exercise with a kayak paddle!
Mountain Float: Houseboat Accommodation
There are several houseboat accommodation options on the Mae Ngat Reservoir. In all cases, the houseboats are permanently moored near the water's edge. They typically interconnect several bungalows and a restaurant by walkways to create a floating hotel.
Our preferred accommodation supplier is Mountain Float. Their rooms are comfortable and clean, and their professional staff will take good care of you. As a guest at Mountain Float, you have free use of their kayaks, and can swim in the lake. Meals are also included.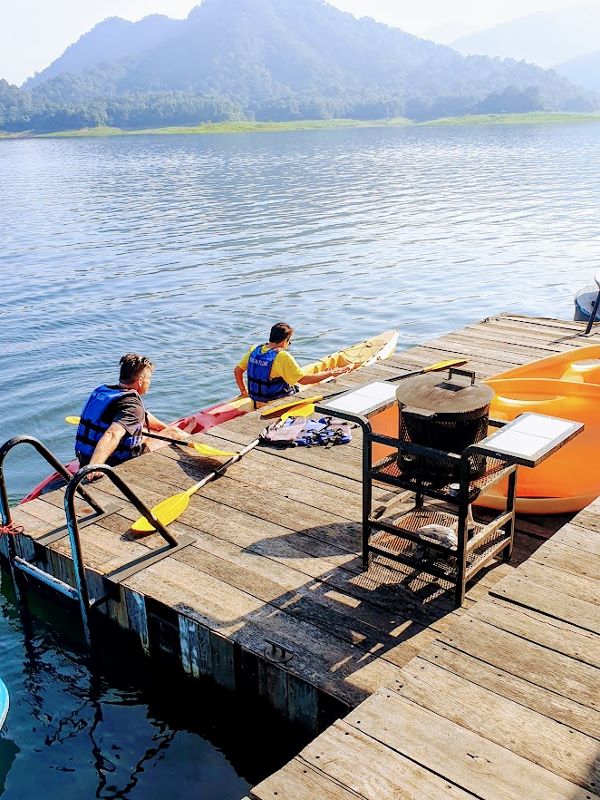 Please note that you must wear the provided life-jackets for all water activities. This rule is enforced by police who patrol the dam. Even for accomplished swimmers, you will be required to wear a life jacket to swim.
Mae Ngat Dam Tours
We have a standard two day tour itinerary for overnight stay at Mae Ngat Dam, but we can also add this on as an additional day for any of our multi-day itineraries.
Nearby Attractions
Queen Sirikit Botanic Gardens
Bai Orchid & Butterfly Farm
For more information about accommodation, facilities, & activities, please refer to the Mountain Float website https://www.mountainfloatchiangmai.com/