Your Khantoke Dinner Chiang Mai will be an unforgettable evening of traditional Northern Thai food, dance and music. This is a serious exposition of Northern Thai culture with attention to authentic music, dance and costumes – popular with both Thai and foreign visitors.
You have the option of sitting on the floor (with comfortable cushions), or sitting at a low table with excavated leg room. The floor seating is closest to the performances.
Khantoke Dinner Group Tour
The tour includes all transport, attraction tickets, and evening meal.
Shuttle transfer to/from your hotel
Dinner is served at your table, and the dishes may be refilled
Dance performance
Khantoke Dinner Performances
The performances are provided by local fine arts students. You will gain some insight into the range of cultures within Northern Thailand and also the external influences from southern China and Myanmar. The exact performances will vary based on the cast of performers, but a typical set would be as follows:
The Kingkala – A dance from Mae Hong Son province based on animal mythology.
War Drum Dance – a motivational performance for soldiers in less peaceful periods of history
Dararatsamee Princess – dance honoring Lanna royalty
Khone "Hanuman chases Nang Suphunamucha" Episode – Dramatic performance of an excerpt from Ramakian, the greatest Thai literary work, influenced by the Indian literary work "Ramayana".
Sword Dance – a difficult dance requiring specialist training
Nattayaranasiam – Thai martial arts.
Sueng Ka-pho – 'Coconut Dance' from North-Eastern Thailand.
Ram Wong – a traditional dance from Central Thailand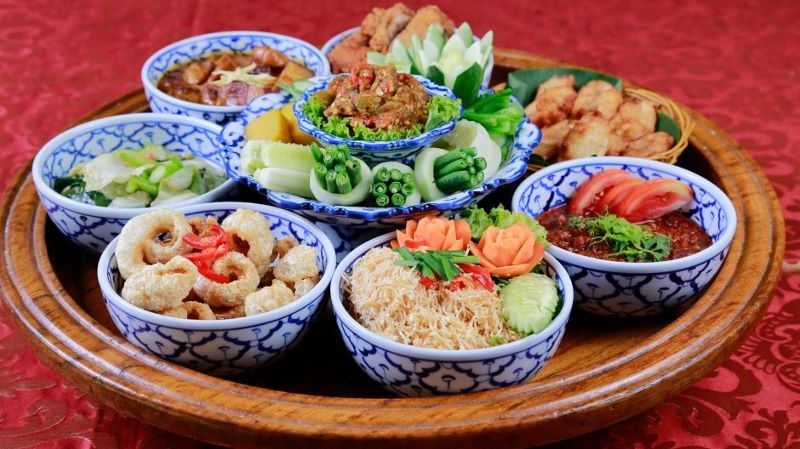 Khantoke Dinner – Dishes Served
The Khantoke is the small round table that Northern Thai people traditionally dine from. You will be served small bowls (free refills) with all the most popular Northern Thai specialties.
Halal and Vegetarian options are also available, just let us know when you book.
Fried Banana
Clear Broth
Slow-cooked pork with Ginger & Tamarind Sauce
Fried Chicken
Grilled Young Chili Paste (Nam Prik Noom) with Steamed Vegetables
Minced Pork in Tomato Sauce (Nam Prik Ong)
Crispy Pork Skin (Cab Moo)
Stir-Fried Mixed Vegetables
Crispy Rice Noodles
Sticky Rice or Steamed Rice
Seasonal Fresh Fruit
Tea or Coffee
Khantoke Dinner Chiang Mai
For more information refer to the Khum Khantoke official web site.
Other Attractions in Chiang Mai's Outer Suburbs