When should I visit Chiang Mai? All year is good, but here are some useful details on festivals, weather, and seasonal pricing.
Seasons
There are 3 seasons in Chiang Mai: Hot (March – May), Wet (June – October), Cool (November – February). Officially there is no Spring season, but there is a 2 week transition in late February / early March when a lot of flowers are in bloom.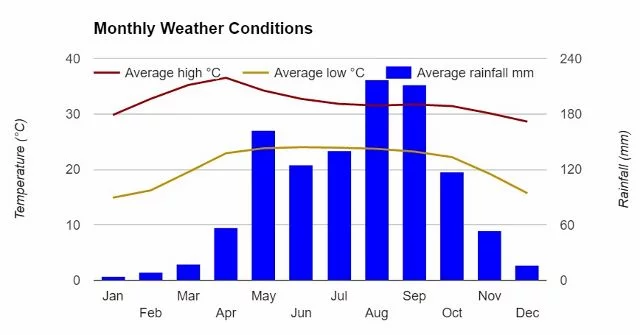 Cool Season
From November to February is the most comfortable time of year, with daily maximum temperature around 30 °C (85 °F). These 4 months also have the lowest rainfall.
In December and January, additional planning is needed to avoid crowds of local people in the mountains. People from all over Thailand travel to the North to experience cold weather in the mountains. This can cause difficult traffic conditions in the mountains, especially on New Year's Eve and New Year's Day. Doi Inthanon is the most popular Winter destination for Thai people, and the traffic jams become a safety concern. Smaller peaks near Chiang Mai such as Doi Suthep, and Doi Mon Jam are also affected to a lesser extent. We do not run mountain tours on the busiest days.
Hot Season
From March to May are the hottest months and are also generally dry, but with increased chance of rainfall in May. School children have their lengthy 'Summer' vacation in April. Some days can get over 40 °C (100 °F), and the rice fields are brown stubble – so not as photogenic as the rainy season. Despite the challenging weather, April has a real holiday atmosphere, with most Thai people travelling to their home town to celebrate Songkran (Thai New Year) with family. You can always cool down with the famous Songkran water splashing!
Rainy Season
From June to October, most of the rainfall is in the afternoon or at night. However, sometimes it does rain for a whole day, or (especially in August and September) you can have several days in a row completely rained out. Despite the rain, the weather is generally more comfortable than the hot season. Also, the vegetation is at its most lush and green at this time of year.
Seasonal Pricing
Accommodation is most expensive during December/January and for major holidays like Chinese New Year, Songkran, and Loy Krathong.
The golf courses in Chiang Mai generally offer discounted green fees From April to October.
Major Festivals and Holidays
| | |
| --- | --- |
| January 1st | New Year's Day |
| January or February | Chinese New Year |
| April 13th – 15th | Songkran |
| November | Loy Krathong |
| December 25th | Christmas Day |
New Year
This is a public holiday in Thailand, and many Thai people will host parties at home on or near this date. Some businesses may be closed at this time. Hotels will be quite full at this time, so book early.
Chinese New Year
Falling on a different day each year (January or February), CNY is generally a big festival on the Thai calendar, but particularly for the large ethnic Chinese population. Most Chinese-owned businesses will be closed at this time.
Songkran
This is the major festival of the Thai Calendar, with a mass exodus of cars and busses from Bangkok as most people travel to their hometown for Thai New Year. The center of Chiang Mai becomes a multi-day water fight at this time, particularly next to the moat surrounding the old city.
Loy Krathong
This festival (also called Yi Peng in Northern Thailand) falls on the full moon of the 12th month of the Thai calendar – i.e. sometime in November. The central activity of this festival is lighting a candle, and setting it afloat on a river in a Krathong, which is a small floating container traditionally made of leaves. Releasing a Krathong is an act of thanksgiving to the river. In Chiang Mai there are also masses of hot-air lanterns released into the night sky.
Christmas
Christmas is not generally celebrated by Thai people, but it falls within the peak tourist period for the year, and many hotels and restaurants host ticketed events to celebrate. Hotels will be quite full at this time, so book early.