The Mae Ngat Dam tour itinerary is built around a one night stay at Mountain Float – a floating hotel on the dam. The two day program is book-ended by guided sightseeing & activities in the northern districts of Chiang Mai.
Mountain float is built around a common area (floating restaurant), and your accommodation is a self-contained houseboat connected by floating walkways. The following room options are available:
Sunday Houseboat: 2 bedrooms, 2 bathrooms
Sunshine Houseboat: 3 bedrooms, 2 bathrooms
Cocoon Houseboat: 3 bedrooms, 3 bathrooms
Pana Houseboat: 4 bedrooms, 4 bathrooms
All houseboats have a dinning lobby/terrace and mooring for kayaks.
The bedding configuration is a mixture of double and single beds, and additional beds can be added to accommodate larger groups.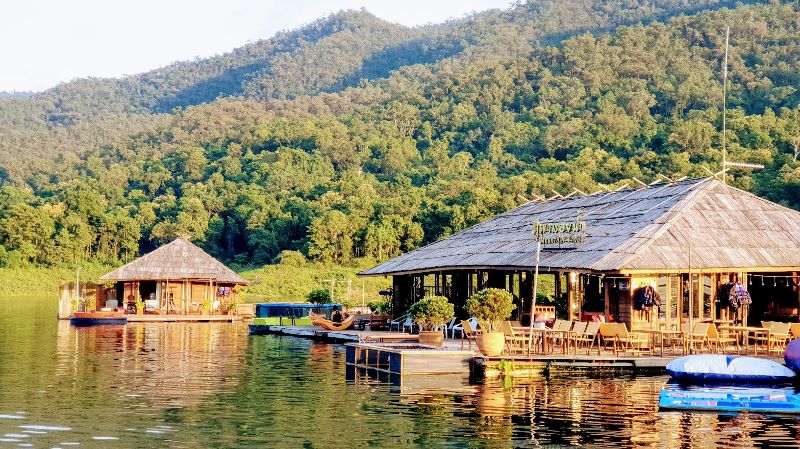 For couples, the Cocoon Houseboat is designed so individual bedrooms can be rented during low season.
Mae Ngat Dam [2D1N Private Tour]
2 pax = ฿9,100 per person = ฿18,200 total
4 pax = ฿6,900 per person = ฿27,600 total
6 pax = ฿5,950 per person = ฿35,700 total
8 pax = ฿5,550 per person = ฿44,400 total
meals, national park fees, attraction tickets & accommodation (twin share) included
discounts available for children under 10 and triple-occupancy
additional costs for premium sightseeing options – see below
This is a private tour, your licensed English-speaking tour guide will accompany you to the dam, and return to meet you at the dock on Day 2. The staff at Mountain Float will take care of you overnight and for boat transfer.
Day 1 – Sightseeing & Mae Ngat Dam
Day 2 – Sticky Waterfall & Return to Chiang Mai
A buffet breakfast is served at Mountain Float (included)
Free time to enjoy lake
Checkout at 11am, and boat transfer to park entrance (boat charter included)
Lunch (included)
Sticky Waterfall (free)
Return to Chiang Mai.
Want to book, discuss details or request a custom itinerary? Let us know your interests, dietary needs, time constraints, etc. The more we know, the better we can serve your needs.