This tour itinerary combines the most popular Chiang Rai city & temple attractions with soft trekking and an overnight stay at Bamboo Nest
With bamboo hut accommodation, solar power and steep terrain, this tour program is for the adventurous.
Chiang Rai & Bamboo Nest [3D2N Private Tour]
฿10,700 (2 pax) ฿7,800 (3 pax)
฿6,700 (4 pax) ฿5,700 (5+ pax)
฿4,600 (7+ pax)
per person
This is a multi-day private tour with your own licensed, English-speaking guide and transport
Day 1 – Chiang Mai to Bamboo Nest
Leave Chiang Mai 8:30am
Road-side rest break at Mae Khachan Hot Springs (free)
White Temple (entry included)
Lunch (included)
Inspire Project prison farm (free)
Scenic drive along Kok River.
Trek for 1.5 hours past a Ban Cha Cho Lahu village and farmland. (local guide fee included).
Arrive at Bamboo Nest late afternoon – your luggage will be waiting for you.
Dinner will be served on site. (included)
Day 2 – Bamboo Nest to Chiang Rai
After breakfast meet up with your local guide to continue trekking further south to Ban I-Ko Nam Tok Akha Village & Huay Kaew Waterfall. (local guide fee included)
Lunch (set-menu included or apply budget towards a-la-carte at Singha Park)
Singha Park (free entry, tram ride included)
Blue Temple (free)
Check in to Chiang Rai city hotel
Evening dinner (own cost) in the city and explore Chiang Rai night bazaar
Day 3 – Golden Triangle & Return to Chiang Mai
Option (choose 1):
Lunch
Option (choose 1):
Stop at Wat Saeng Kaew Photiyan temple (free)
Return to Chiang Mai around 7pm
Alternative Itinerary for Day 3
If you choose not to go to the Golden Triangle, you can use the time to take one of these options instead:
Visit Doi Tung (Mae Fah Luang Garden entry included)
Stay closer to Chiang Rai city and see all the nearby attractions.
Itinerary Details
Day 1 – Chiang Mai to Bamboo Nest
Leaving from your Chiang Mai hotel by 8:30am puts you in front of all the vans and tour bus traffic going to Chiang Rai.
Inspire Project (Kamlangjai)
The Inspire Project (Kamlangjai Project in Thai language) is a national program under royal patronage to improve prisoner welfare and social re-integration. The Chiang Rai facility is an agri-business project designed to train and develop …
Take a scenic drive along Kok River (30 minute) past farmland, an Karen village, and an elephants camp.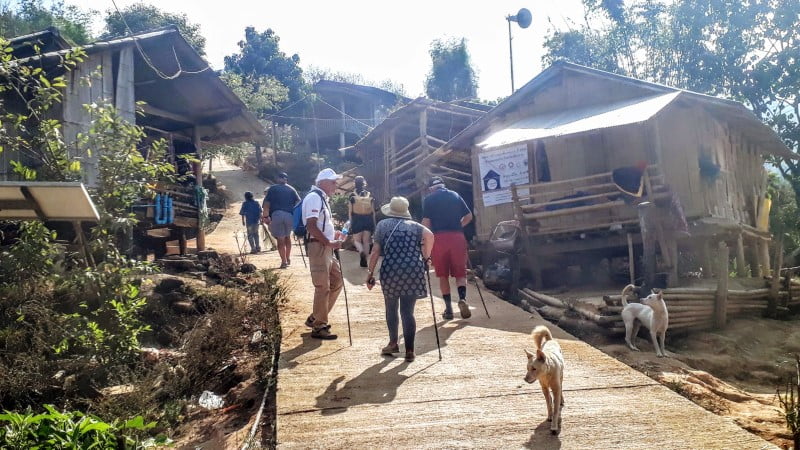 Trek from Pasoet Hot Springs to the Lahu village of Ban Cha Cho.
You will pass through natural forest, a pineapple plantation, a rubber plantation and the village itself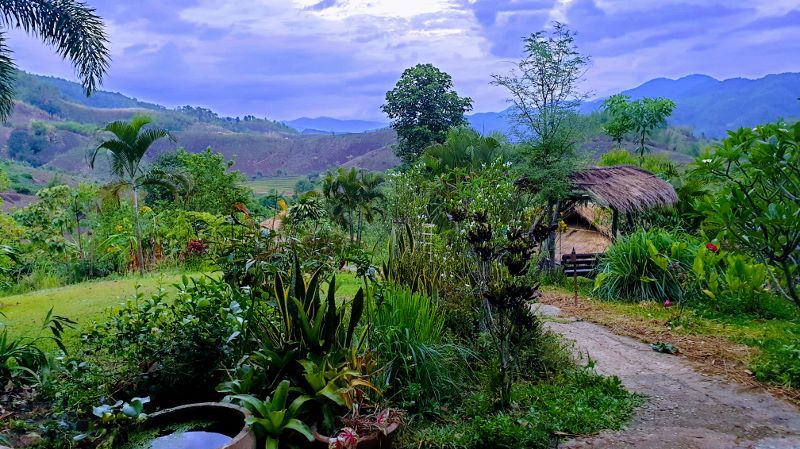 Arrive at Bamboo Nest (1 night stay) mid to late afternoon.
Take a shower and familiarize yourself with bungalow layout, learn how to use your mosquito net etc. before dark
Dinner will be served on site.
Day 2 – Bamboo Nest to Chiang Rai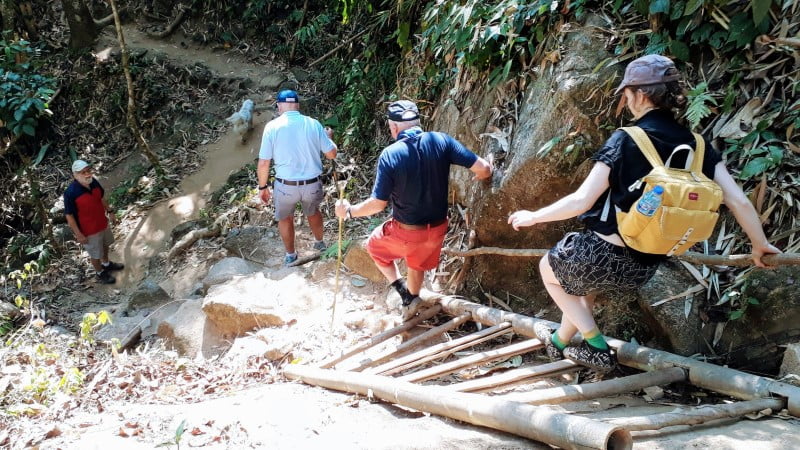 Total trekking time is around 2 hours, the waterfall is optional if you want a shorter walk.
Your transport and luggage will be waiting at the bottom of the waterfall.
Take a break for lunch. A set-menu or buffet meal is included in the tour package. Let your guide know if you would prefer to use the lunch budget towards an a-la-carte restaurant of your choosing.
Singha Park
Singha Park Chiang Rai Singha Park Chiang Rai consists of over 12 square km of tea fields, lakes, fruit trees and flower beds. There is a central viewpoint for the tea fields. Singha Park hosts …
Blue Temple
Located just north of the Kok river within the city of Chiang Rai, the Blue Temple (Wat Rong Seua Ten) is well worth a visit. There is currently no entry fee, but this may change …
Check in to your hotel late afternoon. In the evening, go out for dinner in the city & explore Chiang Rai Night Bazaar. There is an hourly light show at the Chiang Rai Clock Tower too.
Day 3 – Golden Triangle & Return to Chiang Mai
Golden Triangle
The golden triangle is a large geographic region including parts of Myanmar, Laos, and Northern Thailand. This region has infamy as one of the largest sources of opium production in the world, especially during the …
Choose 1 of either Mekong River Cruise or Hall of Opium Museum
Mekong River Cruise (Golden Triangle)
Taking a boat trip is one of the most popular activities when visiting the Golden Triangle. For solo travelers or small groups, the most cost effective way to get out on the water is in …
Hall of Opium Museum
The Hall of Opium is the premier opium museum at the Golden Triangle, in northern Chiang Rai. Under royal patronage, little expense has been spared with this impressive exposition of the history of opium. You …
Option (choose 1):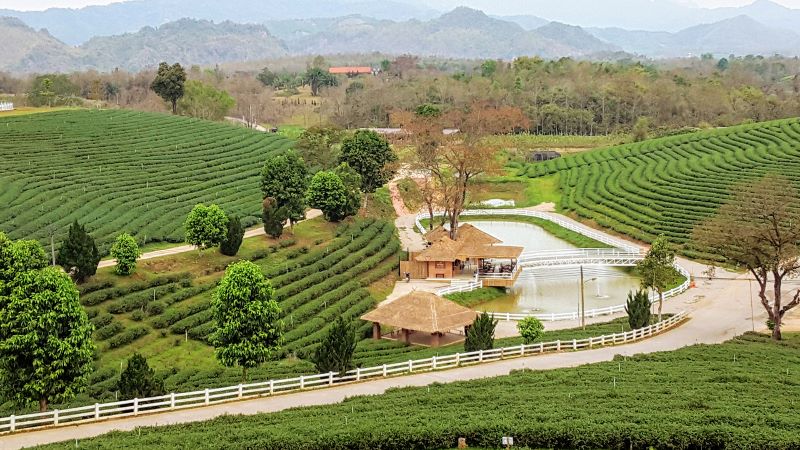 Wat Saeng Kaew Phothiyan
Wat Saeng Kaew Phothiyan is one of the most beautiful temples in Northern Thailand. While not heavily visited by foreigners, it is very well known throughout Thailand. The temple is located one hour south-west of …
Return to Chiang Mai
Want to book, discuss details or request a custom itinerary? Let us know your interests, dietary needs, time constraints, etc. The more we know, the better we can serve your needs.
Other Chiang Rai Itineraries